Massachusetts Bay Trading Co.
Artist Profiles

Brian Bierig: Painter
Drawn to art as a child, Brian has been sketching and painting for as long as he can remember. A Massachusetts native, Brian grew up in Sudbury and only realized the beauty of Cape Cod when he moved there as an adult. It was then that he knew he had to paint it.
"It's the light," Brian says simply of the artistic power of the Cape and about the quality that distinguishes his painting. And if the popularity of his work is any indicator, others agree that he captures the essence of Cape Code like few others.
Unlike many other artists, Brian disdains working from photographs, but instead prefers to take easel or pad to the locations that he paints. In Brian's view, this traditional style accounts for the sense of depth to his work that is hard to recreate when working from photographs or even from memory. "I like to get out at the traditionally special hours for painters, early morning or late afternoon. If the weather's bad, I'll work inside my Jeep. But I just have to get out of the studio and paint. I need to see and feel the light." Once he has captured the essence of the image, Brian can take the work home and complete it in his studio at night.
Brian explains his need to paint with a simple metaphor. "For me it's like eating. I wake up every day hungry to paint. Then, when I'm finished, it's like I've had a wonderful meal. I feel sated. But the next day, I wake up hungry again and have to pick up my brushes and go."
Regarding his favorite paintings, Brian says, "I typically don't get attached to one particular piece that I've done. It's really about the process of painting and less about the product." But if he had to choose, Brian would rank his paintings that have been reproduced on the MBTC holiday and note cards at the top of his list in recreating the charm and flavor of Cape Cod.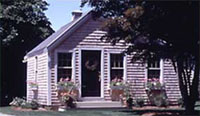 Brian's natural talents were assisted by his education at the Rhode Island School of Design. At RISD, he was exposed to the arts of others who still inspire him today. Edward Hopper, Winslow Homer, Andrew Wyeth and John Singer Sergeant are all influences. But ultimately, his style is fully his own.