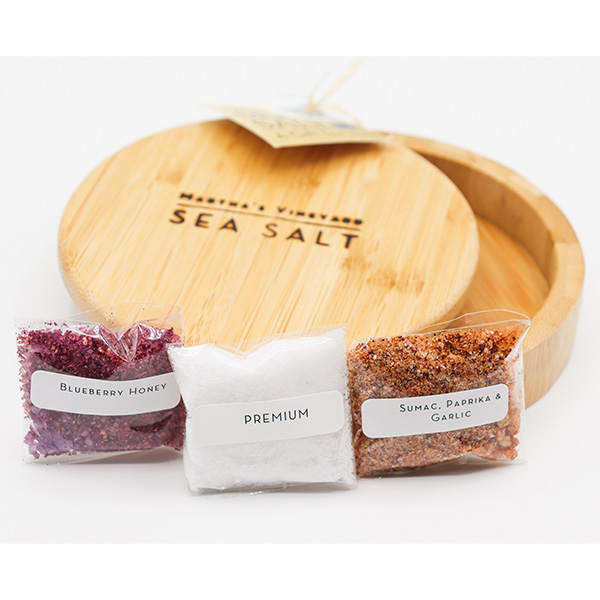 Cocktail Salt Rimmer
GSS1702
$34.95
Pay in 4 interest-free payments on purchases of $30-$1,500 with PayPal.
No Reviews Yet!
Write a Review!
Product Details
Cocktail salt glass rimmer is easy to use and completely portable for to travel where ever your parties take you. Just perfect for margaritas. One ounce each of three of our salts is included, in resealable packages. 3.0 oz total - 1 oz each of Premium; Blueberry Honey; and Sumac, Paprika & Garlic sea salts in resealable bags.
Ingredients: 100% natural Atlantic sea salt, seven blended with herbs and/or spices or activated charcoal.
These are the three salt blends in this cocktail rimmer:
Premium Salt - Perfect atop any cuisine, Premium is the most gorgeous, first-raked sea salt from each small batch.
Blueberry Honey Salt - Sweet and Salty lover? Our Blueberry Honey blend may blow your mind. OG Certified blueberries, and freeze-dried honey.
Sumac, Paprika and Garlic Salt - This savory blend contains Island harvested Sumac which imparts a lemony note and garlic from Heidi & Curt's farm to this savory blend.
Martha's Vineyard Sea Salt is produced by the husband and wife team of Heidi Feldman and Curtis Friedman, a tech consultant-turned-entrepreneurial farmer and carpenter who share a commitment to local, sustainable food production and a deep love of Martha's Vineyard.
No Reviews Yet! Be the first to write a review!