Martha's Vineyard Sea Salt 3-Pack
GSS1701
$15.00
Pay in 4 interest-free payments on purchases of $30-$1,500 with PayPal.
No Reviews Yet!
Write a Review!
Product Details
In the tradition of Vineyard settlers, this sea salt is made from Atlantic Ocean sea water in small batches through solar evaporation on Down Island Farm. The hand-harvested brilliant crystals are briny, mineral rich, and free of additives and preservatives. This makes MV Sea Salt the exception to most culinary salts.
The three varieties included in this set are: Premium, Naughty, and Turmeric, Cranberry and White Pepper.
Premium crystals are delicate, briny, and bright in flavor. Use on salads, grilled meats, and veggies, even in water to boost hydration. Perfect atop any cuisine, Premium is the most gorgeous, first-raked sea salt from each small batch.
Naughty crystals are a blend of MV sea salt and activated charcoal.
Turmeric, Cranberry and White Pepper are crystals with turmeric blended with tart cranberry and a touch of pepper to activate the turmeric.
Ingredients: 100% natural Vineyard sea salt as base. Premium is our first harvest of sea salt. Smoked Oak is salt smoked over Island Oak.
From the sea, by the sun. Delicious, just a pinch will do. By Down Island Farm. Finger crush whole crystals over your prepared meals or beverages.
Quantity: Three .5 oz. resealable containers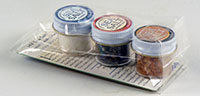 No Reviews Yet! Be the first to write a review!