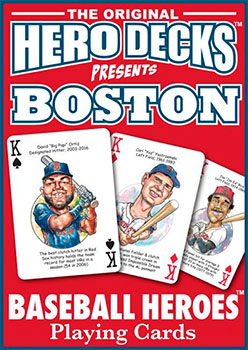 Boston Baseball Heroes Playing Cards
SOS4003
$10.95
Pay in 4 interest-free payments on purchases of $30-$1,500 with PayPal.
No Reviews Yet!
Write a Review!
Product Details
The Boston Baseball Hero Deck playing cards for Boston Red Sox fans feature fifty-two of the greatest players by position and era in Boston Red Sox baseball history. Thoughtfully organized by position using baseball numerology, the face of each playing card is colorfully illustrated with a different hero ... this deck is sure to be a HOME RUN with Red Sox fans of all ages! Example heroes include Mookie Betts, Bill Lee, Carlton Fisk, Jimmie Foxx, and Wade Boggs.
No Reviews Yet! Be the first to write a review!