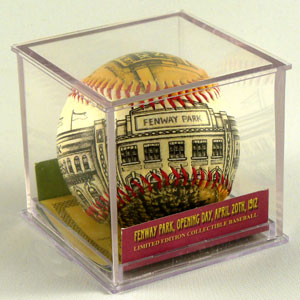 Opening Day Fenway Park Baseball
SOS2001
$29.95
Pay in 4 interest-free payments on purchases of $30-$1,500 with PayPal.
No Reviews Yet!
Write a Review!
Product Details
Limited edition collectible unforgettaball baseball depicting Boston's Fenway Park on opening day, April 20th, 1912. Designed by Emily Wolfson. Comes with certificate of authenticity and reproduction of authentic clippings from the opening day newspaper. Packaged in a protective, clear lucite display box, approximate dimensions 3.5" x 3.5" x 3".
This baseball is a great gift for the Boston fan! It has a detailed painting of the old time look of Fenway Park printed on it. It is rendered in pen and ink, from photos from the actual day in 1912 when the park opened. Includes outside and inside views of the park as well as a piece of the actual ticket stub from that day collaged on the ball. Billboards, architecture, and all other details reflect accurately the look of the stadium on that day. An unusual collectible baseball and perfect gift for the baseball nostalgia lover or Boston baseball fan!
Unforgettaball! baseballs represent the finest collection of art work printed on baseballs in the world. These beautiful decorative baseball designs, begun as paintings by Emily M. Wolfson, make a treasured collectible gift for men, women, and children of all ages. They're perfect as truly unique gifts for everyone from the parents of that special newborn, to children and teens looking for something to brighten their surroundings, to the man or woman looking for the perfect addition to the corporate desktop. At home in any setting, and with a design to thrill nearly everyone, Unforgettaball! baseballs stand out in the world of me-too collectibles and gifts. Made with a careful process that maintains the original character and brilliance of Wolfson's painting while ensuring a decorative and durable ball.
No Reviews Yet! Be the first to write a review!