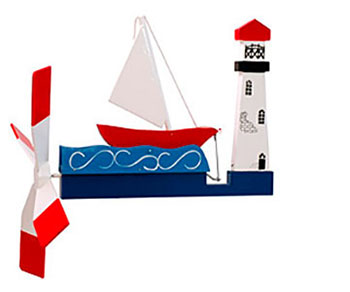 Sailboat and Lighthouse Whirligig
GTW1002
$72.00
Pay in 4 interest-free payments on purchases of $30-$1,500 with PayPal.
No Reviews Yet!
Write a Review!
Product Details
Forget your cares as you dream of sailing to faraway ports while watching this sailboat rocking on the waves. Decorate your lawn, garden, deck or yard with this handmade whirligig. The whirligigs swivel into the wind to show direction and indicate the velocity by the intensity of the action of the figures. Constructed of solid New England white pine (no plastic or plywood), sealed with bright, durable acrylic enamel paints and painstakingly finished with silkscreened or hand-painted detail. A lightweight fan (14" in diameter) drives the action, and the base is free-swinging. Each whirligig is tested for functional integrity prior to packaging, ensuring your enjoyment for years to come. You will find these are the best functioning, most durable whilrigigs available.
For mounting on a post or pole. Posts that are 1 1/2" to 2" in diameter are best. A 20d mounting nail is provided.
Whirligigs are whimsical, wind-driven expressions of American folk art that first appeared in this country nearly 200 years ago. Traditional designs depict common characters and activities of early American rural life, from farmers milking cows to lumbermen chopping wood. Old-timers called them comic weathervanes. The faster the wind blows, the more furiously the figures move. In some parts of the country, whirligigs are known as buzzers, gee-haws, spinners, pinwheels, whirlybirds, or whirlyjigs. Some swear the resulting vibration also drives away moles. Whatever their practical use, the pure pleasure of watching these brightly painted wind toys explains their timeless popularity.
Handmade in Maine, USA, since 1925.
No Reviews Yet! Be the first to write a review!