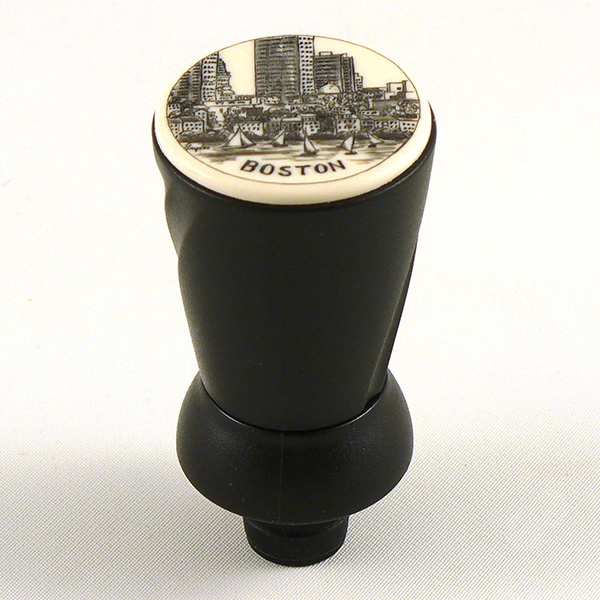 Boston Wine Stopper and Vacuum Pump
COR5010
$24.95
Pay in 4 interest-free payments on purchases of $30-$1,500 with PayPal.
No Reviews Yet!
Write a Review!
Product Details
The Boston wine stopper and vacuum pump is not only wonderful looking, but pumps the air out of wine bottles to slow the oxidation process so your wine's flavor is not muted and the wine does not spoil. The top of the stopper is our Boston from the Charles River eco-friendly resin faux scrimshaw design.
The built-in vacuum pump takes the air out of an opened bottle of wine to preserve the taste up to two weeks and keep the wine nice and fresh. With the air tight vacuum seal on the bottle, you can even store the bottle sideways in a wine rack or refrigerator.
The stopper is approximately 1.69" x 3.36".
Hand-etched acrylic resin faux scrimshaw
Vacuum pump preserves taste of wine for two weeks
Allows for easy storage
1.62" circular top piece
Save the Elephant Collection
Made in the USA
The maker of this product believes that serving nature is one of the commissions that we as humans have been given here on earth. We wish to lend our resources to those charged with protecting elephants from poaching for their ivory. On a monthly basis they donate to organizations whose purpose is to protect the elephants and other species throughout the planet. The donations are to organizations that put the money to good use and have a low overhead, with the majority of incoming funds going back to saving the elephants!

No Reviews Yet! Be the first to write a review!