Product Details
The USS Constitution or "Old Ironsides" first launched in 1797 as a wooden-hulled, three-masted heavy frigate of the United States Navy. She is the world's oldest commissioned naval vessel afloat. This set of mini building blocks contains 347 pieces and when assembled, the USS Constitution stands 6 1/8" x 4 3/4" x 2 7/8".
Packaged in a colorful gift box, it makes a great stocking stuffer or gift. Includes instructions for assembly.
For ages 7 and up.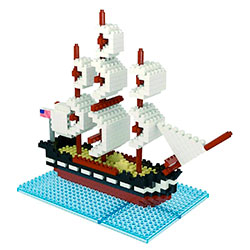 No Reviews Yet! Be the first to write a review!