Remember New Hampshire Ornament
SCO4100
$19.95
Pay in 4 interest-free payments on purchases of $30-$1,500 with PayPal.
No Reviews Yet!
Write a Review!
Product Details
This beautifully detailed Christmas ornament features the mountains and forests that shape the North Country of New Hampshire. The mountains, lofty peaks including Mt. Washington at 6228 feet, the highest in the Northeast, seem to go on forever. And the most famous landmark, the Old Man of the Mountain, was set high above Profile Lake in Franconia Notch State Park. This natural stone profile was carved by nature thousands of years ago and is formed by five separate ledges, measuring 40 feet from chin to forehead. Hampshire Pewter has captured the natural wonders of New Hampshire in this special ornament. We invite you to come and see our views and remember New Hampshire, a state rich in history, scenic beauty and warm hospitality.
Ornament Details
Includes a romance card with above statement and ribbon to hang ornament.
2-3/4" high x 2-1/2" wide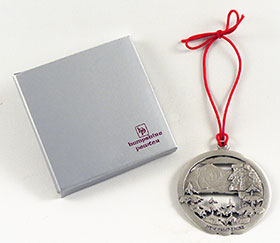 No Reviews Yet! Be the first to write a review!