Red Sox Face Mask
SOS4004
$8.95
Pay in 4 interest-free payments on purchases of $30-$1,500 with PayPal.
No Reviews Yet!
Write a Review!
Product Details
Non-medical grade light weight and breathable fabric. Designed to be a two-ply barrier with one size fits most two ear hole slots. It is washable polyester/spandex blend. This is a fan accessory that has not been cleared for medical use by the FDA. Not intended to be used as medical grade Personal Protective Equipment (PPE). Not intended to replace other recommended measures to limit the community spread of COVID-19, such as social distancing, washing your hands, and refraining from touching your face. Should be washed after each use. Thoroughly wash your hands after touching your fan mask. Please visit the CDC website for more information. Made by Wincraft.
Due to the risks associated with COVID-19 these products are not eligible for return.
Made in the USA.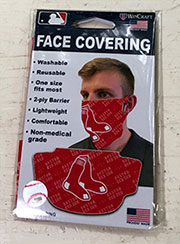 No Reviews Yet! Be the first to write a review!