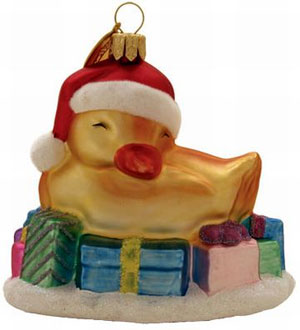 Quack Sleeps Lightly Landmark Ornament
SCO1009
$38.00
Pay in 4 interest-free payments on purchases of $30-$1,500 with PayPal.
No Reviews Yet!
Write a Review!
Product Details
Quack Sleeps Lightly, 3" tall.
Little Quack sleeps lightly on his nest of presents as he waits for Christmas morning.
Each Landmark Creations ornament is blown by mouth and often takes a week to complete. After blowing, the glass is silvered, rinsed and then turned upside down to dry. The silver is applied on the inside, which allows a gorgeous depth of color. Once the ornament is dry, the decorating can begin. Different artists are responsible for applying different colors and details. When the ornament is fully detailed and has been allowed to dry, the neck is trimmed and crowned with an ornament cap.
No Reviews Yet! Be the first to write a review!