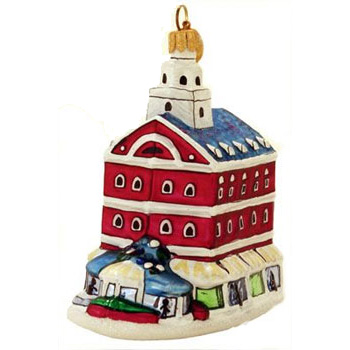 Boston Faneuil Hall Landmark Ornament
SCO1008
$42.95
Pay in 4 interest-free payments on purchases of $30-$1,500 with PayPal.
No Reviews Yet!
Write a Review!
Product Details
The Boston Faneuil Hall ornament stands 4 1/4 inches tall.
Faneuil Hall was completed in 1742 and donated to the burgeoning city of Boston by merchant Peter Faneuil. Unfortunately, the brick building needed to be rebuilt after a devastating fire in 1761. Faneuil Hall's ground floor housed a bustling marketplace while its upper story was used as the old Boston town meeting hall. The clamor of raised voices was not limited to the vendors' stalls -- the town hall was the site for many impassioned and historical debates, including the issues of "taxation without representation" and events leading up to the Boston Tea Party. It was because of these revolutionary meetings that the building came to be known as the "Cradle of American Liberty." Faneuil Hall was also a forum for several famed abolitionists including Frederick Douglass, Wendell Philips, and William Lloyd Garrison. In 1805, Charles Bulfinch enlarged the building and added a third story.
No Reviews Yet! Be the first to write a review!