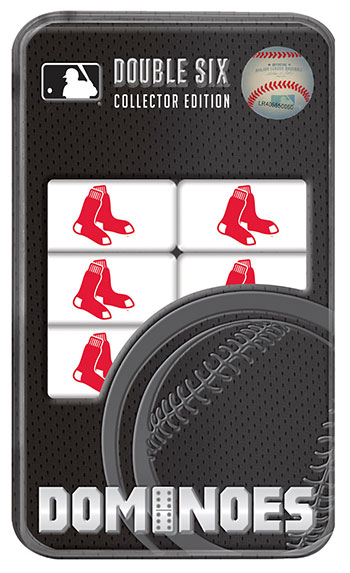 Boston Red Sox Dominoes
GTG1017
$19.95
Pay in 4 interest-free payments on purchases of $30-$1,500 with PayPal.
No Reviews Yet!
Write a Review!
Product Details
Play the classic game of Dominoes with this 28-piece officially licensed set. Take a trip down memory lane. Invite your buds over for snacks, cool beverages and a Red Sox-spirited game of bones with this team dominoes set. Each domino included in this set of 28 double-six dominoes features the Boston team logo, so you can have hours and hours of fun in between BoSox games - domino!
Full set of 28 double-six dominoes
Screen print graphics
Ages 6 & up
Officially licensed MLB product
Tin measures approximately 7" x 4" x 1"
Dominoes measure approximately 2" x 1" x .375"
No Reviews Yet! Be the first to write a review!