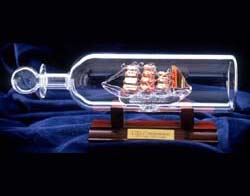 USS Constitution in a Bottle
COR2001
$27.00
Pay in 4 interest-free payments on purchases of $30-$1,500 with PayPal.
No Reviews Yet!
Write a Review!
Product Details
The USS Constitution, nicknamed Old Ironsides because bullets could not penetrate her tough live oak sides, was one of the first of the original six frigates that made up the U.S. Navy. The ship was a 44-gun frigate built at the Edmond Hartt Shipyard, Boston, MA, in 1797.
This gift is a glass version of the ship in a glass bottle. Available in two sizes (see related products).
Standard dimensions: 210mm x 56mm (8 " x 2 ").
About ships-in-a-bottle
The oldest existing ships-in-a-bottle were made around 1760. These were intricate professional pieces apparently assembled in commercial workshops specializing in the construction of ship models to serve as gifts for kings, admirals, and other important people. Dating back to 1850, ships-in-a-bottle were constructed by sailors on board the tall ships. It was then that beverage bottles made from clear glass became available to the public. After a sailor had finished his favorite drink, possibly on a wide, calm sea, the empty bottle in front of him served as inspiration. Since the tools and materials available on board were limited, the first examples of maritime craft are of a rather crude and simple design. These old models, however, exude a special and unique charm in spite, or just because, of their simplicity.
No Reviews Yet! Be the first to write a review!