Product Details
lobsters are 10-legged crustaceans closely related to shrimp and crabs. This set of mini building blocks contains 266 pieces and when assembled, the lobster stands 2 3/8" x 6 1/4" x 4 3/8".
Packaged in a colorful gift box, it makes a great stocking stuffer or gift. Includes instructions for assembly.
For ages 7 and up.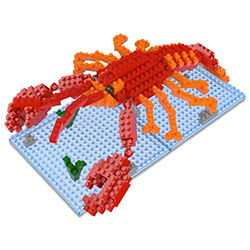 No Reviews Yet! Be the first to write a review!