Cranberry Oat Chip Cookies
GSC8003
$4.95
Pay in 4 interest-free payments on purchases of $30-$1,500 with PayPal.
No Reviews Yet!
Write a Review!
Product Details
Light, crisp 100% whole grain rolled oats with cranberries and bittersweet chocolate. Winner of the sofi™ gold prize for outstanding cookie. Lark Fine Foods Whole Grain Lady Birds Cranberries and Chocolate Cookies redefine the traditional oatmeal cookie with their healthy ingredients, crispy texture and, of course, lady bug-like spots of dried cranberries and bittersweet chocolate. The cookies are rich yet light, making them a perfect snack for adults and children alike. It's not too sweet and not too salty so you can eat a lot of them!
Many whole wheat cookies can be heavy, but Lady Birds are light and crispy. The addition of wholesome rolled oats, dried cranberries and bittersweet chocolate enhances the cookies' wonderful texture and lends a delicious flavor. The cookies are handmade in small batches.
Made in Massachusetts by Lark Fine Foods, a 100% women-owned business.
Net weight 3.2 ounces / 90 g
Package size approximately 2 3/4" x 2 1/2" x 4 1/2" tall.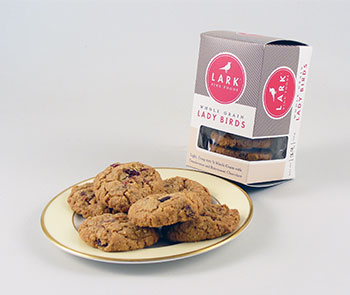 No Reviews Yet! Be the first to write a review!