Educational Recycling Truck
GTT1011
$19.95
Pay in 4 interest-free payments on purchases of $30-$1,500 with PayPal.
No Reviews Yet!
Write a Review!
Product Details
The Recycling Truck from Luke's Toy Factory is an educational toy that also teaches the basics and benefits of recycling. Made from recycled organic fibers (sawdust from furniture factories) and recycled plastic, this package is an innovative way to teach young children recycling concepts.
Along with the disassembleable truck are included colorful flash cards with easy to grasp ideas about recycling. A parent or teacher can discuss how the truck is made while passing around parts of the truck. When the lesson is over, the students can assemble the parts into a working truck, which reinforces the positive message about recycle, re-use, and renew.
This STEM educational toy truck encourages early childhood development of problem solving, creative play, and fine-motor skills in kids aged 3 and up.
Four-part stacking toy
Made from 30% sawdust and 70% safe, certified, clean plastic
100% made in the USA
NO paint. NO glue
Waterproof, sink washable
Parts are interchangeable with other Luke's Toy Factory toy trucks
Safety tested and certified for ages 3+
Dimensions: 6" long x 3" wide x 3.75" high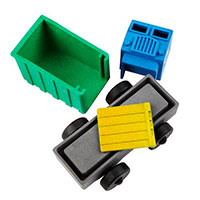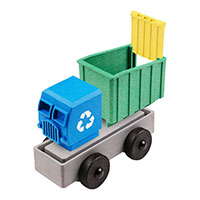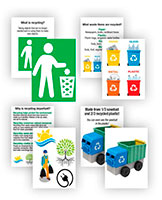 No Reviews Yet! Be the first to write a review!