Grilled Seafood with Sauce
Spread Wasabi Ginger Finishing Sauce on both sides of seafood of choice; such as salmon, shrimp, scallops, or fish fillets. Chill for 30 minutes. Place on grill, basting with Wasabi Ginger Finishing Sauce last 2 minutes of grilling until done. Serve with lemon wedges and a side of the sauce for dipping.
Grilled Portabella Mushrooms
In a shallow dish brush the fin side of the mushrooms liberally with Wasabi Ginger Finishing Sauce. Chill 20 minutes or until sauce is absorbed. Grill fin side down first 3 minutes, turn and grill 2 minutes up. Baste fin side with sauce and grill fin side down another 3 minutes until done. Serve hot off the grill!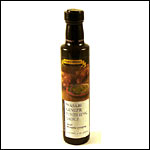 GSD1014
Wasabi Ginger
Finishing Sauce
Grilled Wasabi Tuna with Cucumber Ribbons
Preheat barbecue grill or broiler. Marinate a 1 lb. tuna steak in ¼ cup of Wasabi Ginger Finishing Sauce. While tuna is marinating, peel 1 cucumber with a vegetable peeler until you reach the seeded core. Discard core and set aside cucumber ribbons. Cook tuna, turning once, for 15 minutes or until cooked through. Slice tuna and place individual pieces on 4 small soft flour tortillas. Cover with cucumber ribbons, a romaine leaf, and dab with Wasabi Ginger Finishing Sauce. Fold edges of tortilla over the filling and serve.