Official Name: Commonwealth of Massachusetts
Capital: Boston
Population: 6,349,097 (2000 U.S. Census Bureau)
Area: 8,257 square miles (land and water)
Climate: Average monthly temperatures in Boston range from 28.2° in January to 72.0° in July
Quick Facts

Massachusetts has produced half of all the Nobel Prize winners in the country

The State's total R&D expenditures are nearly 3 times greater than the national average


Major League Sports Teams


Baseball – Boston Red Sox

Football – New England Patriots
Hockey – Boston Bruins

Basketball – Boston Celtics

Patriots Schedule
| | | | |
| --- | --- | --- | --- |
| 16-Nov | NE @ IND | Lucas Oil Stadium | 8:30 PM |
| 23-Nov | DET @ NE | Gillette Stadium | 1:00 PM |
| 30-Nov | NE @ GB | Lambeau Field | 4:25 PM |
| 7-Dec | NE @ SD | Qualcomm Stadium | 8:30 PM |
| 14-Dec | MIA @ NE | Gillette Stadium | 1:00 PM |
| 21-Dec | NE @ NYJ | MetLife Stadium | 1:00 PM |
| 28-Dec | BUF @ NE | Gillette Stadium | 1:00 PM |

Boston Area
The Glass Flowers – A Botanical Museum collection
Harvard Museum of Natural History
This unique collection of over 3,000 models was created by the glass artisans, Leopold Blaschka and his son, Rudolph. The commission began in 1886, continued for five decades, and represents more than 830 plant species.
26 Oxford Street and at 11 Divinity Avenue, Cambridge, MA. Open daily from 9 a.m. to 5 p.m.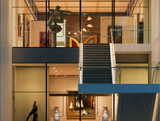 Museum of Fine Arts
Art of the Americas Wing
The centerpiece of the MFA's historic expansion is a spectacular new wing for the Art of the Americas collection, which will double the number of objects from the collection on view, including several large-scale masterpieces not displayed for decades.
Through December 31, 2016
Norman Rockwell Museum
9 Route 183, Stockbridge, MA 01262
413-298-4100
Norman Rockwell Museum is dedicated to education and art appreciation inspired by the legacy of Norman Rockwell. The museum preserves, studies and communicates with a worldwide audience the life, art and spirit of Norman Rockwell in the field of illustration.
Open Daily

Decordova Sculpture Park and Museum
Decordova Sculpture Park and Museum
35 acres of beautiful rolling woodlands and lawns, and is the largest park of its kind in New England. The Sculpture Park provides a constantly changing exhibition of large-scale, outdoor, Modern and contemporary American sculpture and site-specific installations.
Lincoln, 781-259-8355
This Month in Massachusetts History
November
16 November 1914
Boston branch of the Federal Reserve Bank opens
16 November 1825
Granite industry began in Quincy, MA. Continued for 130 years
17 November 1928
Boston Garden opens to the public
18 November 1755
Earthquake throws down the grasshopper vane on Faneuil Hall in Boston
18 November 1705
Lepers arrived on Penikese Island in Buzzard's Bay, the site of the first and only leprosarium in Massachusetts
19 November 1620
The Pilgrims reached Cape Cod
19 November 1838
Adelphic Union Library Association founded to serve black community in Boston
20 November 1928
First Bruins game at the Boston Garden played
21 November 1832
Fire Department saves City Hall and its records from destruction in Boston
23 November 1849
John White Webster murders Dr. George Parkman in Cambridge
26 November 1607
John Harvard, clergyman and scholar, founder of Harvard Univ., was born in England
27 November 1676
Fire destroys the Old North Church and forty-five houses
27 November 1873
Headings connected on Hoosac Tunnel
27 November 1898
Gale of 1898: New England's worst maritime disaster
28 November 1942
Fire at the Cocoanut Grove nightclub kills 490 in Boston
2 December 1872

Boston's Board of Health re-established after absence of fifty years

3 December 1860

Wendell Philips mobbed at a memorial meeting for John Brown in Boston

4 December 1806

African Meeting House opens on Belknap Street in Boston

5 December 1784

Phillis Wheatley, African-American poet and the first black woman poet recognized in the United States, dies in Boston.

6 December 1806

Dedication of African Meeting House on Belknap Street in Boston

6 December 1879

Emancipation Statue placed in Park Square in Boston
8 December 1912

Over 1,000 people gathered at the Waldorf Astoria Hotel in New York to hear Boston writer Mary Antin

10 December 1805

William Lloyd Garrison, abolitionist and writer, born in Newburyport

15 December 1995

Ted Williams Tunnel opens to traffic in Boston

16 December 1773

The Boston Tea Party

17 December 1719

Northern Lights (Aurora Borealis) visible in Boston

17 December 1807

Poet John Greenleaf Whittier born in Haverhill

21 December 1767

Phillis Wheatley publishes first poem.

23 December 1954

First successful human organ transplant operation at Peter Bent Brigham Hospital

24 December 1906

First radio program broadcast (from Brant Rock, Marshfield)

25 December 1815

Handel & Haydn Society presents its first concert (in Boston)

26 December 1849

Abolitionist David Ruggles dies in Florence, MA

28 December 1874

Post Office Square named in Boston

29 December 1723

Old North Church opens for worship in Boston

30 December 1809

Wearing masks at balls was forbidden in Boston

31 December 1803

Construction completed on the Middlesex Canal connecting the Charles and Merrimack Rivers

31 December 1839

First Lowell Lecture presented

31 December 1862

Abolitionists in Boston gather to celebrate Emancipation Proclamation.
| | |
| --- | --- |
| Massachusetts Bay Trading Company supports the Massachusetts Foundation for the Humanities, publisher of Mass Moments -- a daily almanac of Massachusetts history. Read more> | |